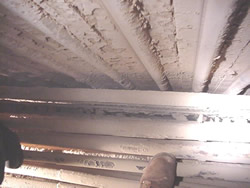 1st Call Explosive Solutions, Inc. opened its doors April 1, 2001, in Wisconsin Rapids, WI. We provide deslagging operations for coal, wood, paper, bio mass and oil burning boilers throughout the United States.
Frank Cammarata, founder of 1st Call, has been working in the field of explosives since 1984. Initially trained by the U.S military, Frank served his country for 15 years as a Explosive Ordnance Disposal Technician. Then in 1999, Frank applied this extensive experience to the private commercial sector, specializing in the field of boiler cleaning. Currently, 1st Call Explosive Solutions, Inc., employs licensed blasters with over 40 years of combined experience.
Note: This material was produced from only 3 gas passes in a 10' wide and 3' deep economizer.